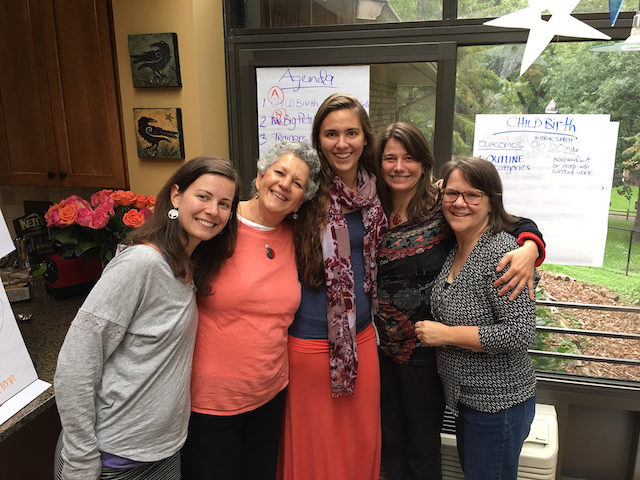 I started the "Who BEcomes A Doula?"  Series because I wanted know more about what compels a woman (or a man) to become a birth doula?
~Who is drawn to this work and what kind of work (or life) did they have before they became a birth doula?
~What makes them continue?
~Is there something about our personalities that leads us to find a way to connect with, care for and support women at that uniquely vulnerable and joyous time of birth?
~And for fun, some questions and photos that give us a glimpse into the moments and meanings in their lives.
For this project, I have chosen to interview doulas all over the world.  Some are new to this work.  Some are seasoned and 'reasoned' – my way of saying they have found what it takes to make this work sustainable – both professionally and personally.   All of them inspire me in my own "heart's work", like…
Lorenza Holt
I first met Lorenza in Cancun, Mexico at the DONA International 20th Anniversary Conference.  My most vivid memory is standing in the ocean with her and both of us letting the waves take us up and down and forward and back.  As Lorenza says, "The water was delicious."
Only later, would I learn Lorenza's rich history as a childbirth professional in the Boston area of Massachusetts.  She is currently Executive Director of BACE (Boston Association for Childbirth Education and Nursing Mother's Council) – truly a pioneering organization advocating for women's rights in childbirth.  She has been dedicated to working for mothers and babies for 30 years as a childbirth educator, a doula and doula trainer and now as one of a handful of Spinning Babies Trainers in the world.   That is Lorenza in the photo below – on the far left.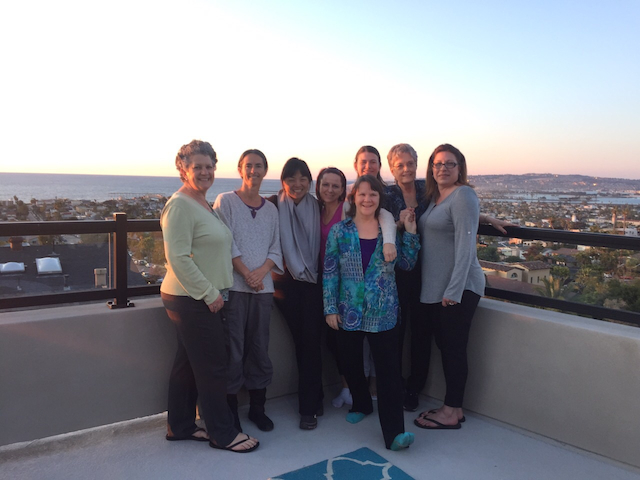 She received her Master's Degree in Public Health from Boston University, but only AFTER she worked as a community coordinator for the Cambridge Birth Center where she created its doula program, which served a culturally diverse population.  She deeply believes all women should have access to support.  "When a woman who may be an immigrant and who may not speak English has the support of another woman during childbirth, who understands her language and culture, it "raises the volume of her voice" and allows her to be heard."
In 2010 she was inducted into the Women's Health Heroes Hall of Fame – Our Bodies Ourselves Women's Health Hero Award

I have wanted to bring Spinning Babies to Boise for over two years and I was thrilled when Lorenza agreed to come this fall. I was happier still  to be able to coordinate the dates so her trip could be part of the Treasure Valley Doulas 2016 Conference.  Tomorrow we will spend all day exploring fascia and the role of the doula in "spinning babies" –  helping the motherbaby do what their bodies innately do – holding the space to make that happen.  I will return to post those photos later.  Until then, meet Lorenza….
How did you become a doula?
I became a doula through the births of my own two children.  I was born in Mexico (when birth was normal).  I had my own children in Boston, MA. My first birth was a unpreventable cesarean due to placenta previa.  But I always felt I had missed a fundamentally important experience.  So with the next baby, I really wanted a vaginal birth.  My OB didn't remember me, but congratulated himself on his "work" when he saw my cesarean scar.  I walked out and never returned.
My neighbor was a midwife and she supported my transformation by validating my inner voice, my truth – that I could trust my body.  I am responsible for it and if I want this experience, I need to make it happen. I cannot depend on a healthcare system to give it to me.  So I became informed and maybe a little demanding.
I found a midwife but the healthcare system did not support VBACs at that time and her consulting physician asked what I thought of the consent form for another cesarean section.  Out of my mouth came: "I would rather have a home birth."
So I went home repeating, "I am having a home birth."  At 30 weeks we started planning our home birth and for 12 weeks I planned.  My son was born at home (at 42 weeks) on Valentine's Day.
Birth (and informed choices) became my passion. I became a childbirth educator and then, in 1993, Penny Simkin came to Boston and I took the birth doula training – it could have been one of the very first trainings, I think, and I have been doing it ever since.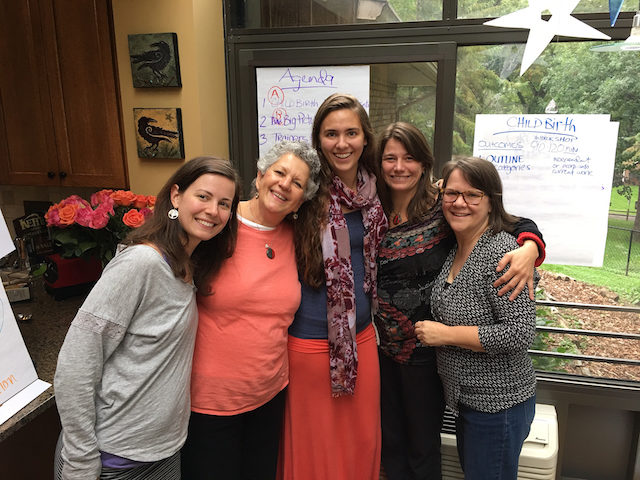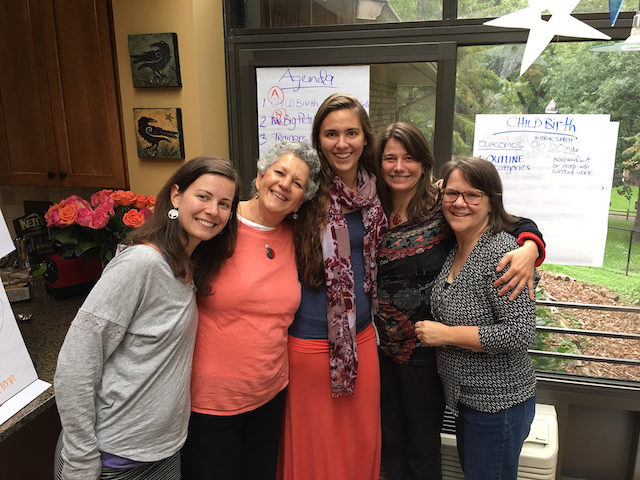 What makes you continue? The ripple effects in a woman's life when birth is transformative!
5 words that best describe your journey as a doula: It's just a joyful passion.
Most surprising thing you ever took to/used at a birth:  The realization of learning that what it truly takes is simply being fully present in the moment.
Funniest thing you ever heard a laboring woman say: "I'm going to need a pastrami sandwich before I can push this baby out."
If you could say only one thing at a birth to the laboring woman, what would it be?  You are strong.
What is the most challenging thing about being a doula?  The sacred promise that we make to being there when she needs us.  We are entering into the most sacred place when we have agreed to be with her.
What is the most rewarding part of being a doula for you?  Spending those weeks getting to know her, providing information, encouragement, referrals and then, on that day, she trusts you…and tells you "I am so glad you are here."  Knowing it made a difference for her.  Then she remembers that she was respected, heard, supported and loved at such a transformative moment.  It is real and raw and she vulnerable.  And I have seen that if she feels loved she feel triumphant, strong and capable.  And we are back to the ripple effect.
Your family would say about you…  She is a total birth junkie.
When you are not a birth, where are we mostly likely to find you?  In meetings with policy makers doing my best to strengthen the workforce of maternal and child community health workers, traveling and teaching spinning babies which is changing birth on earth.
And I am humbled, honored, amazed, delighted to be among the group of women sharing what we are doing.
I am the only Spanish speaking trainer which has to me to  Guadalajara, Monterey and Mexico City as well as Quebec and Montreal (and Boise) and I am going to Spain in March!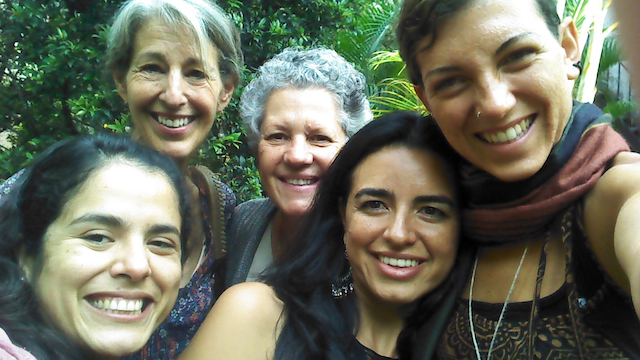 To recharge your BEing what do you do?  I walk and do yoga.  And I love to cook, to invite friends and family over and share a meal.
What book are you reading now?  My book club book is I Almost Forgot About You by Terry McMillan but I haven't cracked it yet.
For Birth/Spinning Babies: Preparing for A Gentle Birth by Blandine Calais-Germain and Nuria Vives Pares  and Sarah Buckley's work.  Penny Simkin's The Labor Progress Handbook, but mostly I just try to get into Gail Tully's head and to understand her genius.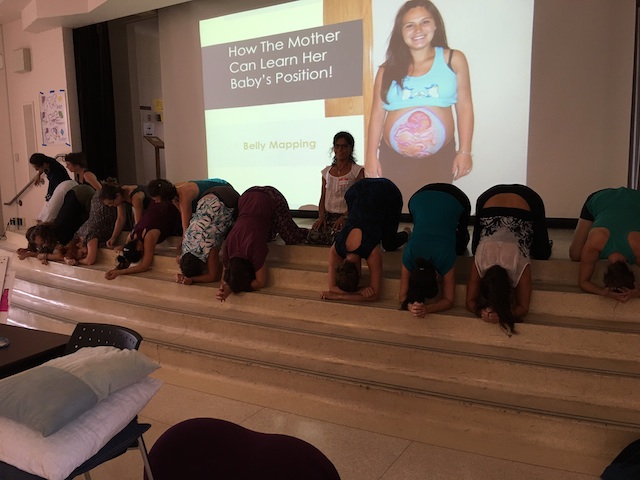 Your advice to new doulas:  Keep the mother in the middle!! Of everything you do.  It is about the joy of serving.