I was listening to NPR today (might as well not have other channels in this girl's car) and heard a piece on mothers in the military that surprised me and stuck with me all day. Being interviewed were mothers who are deployed and the part that took me by surprise was the reality that mutli-tasking never ends for mothers even if they are working in a hostile country. One woman mentioned getting emails from her child's teachers to discuss how her kids were doing in school and while I realize that probably shouldn't surprise me, (I would want to know what was going on with my child and to stay connected), when I try to imagine what it really means to need to be on guard (like any false step could be fatal), on the other side of the world, and still need to hold your child's daily life in your head and heart…well, I can't wrap my mind around it.
Then, later that day, I got a phone call from a former student and client. She was contacting me to ask me to send her the photo (below) which was taken outside my home in 2006. As it is Veteran's Day, her colleagues wanted to see a pregnant Captain Houle (as she was called when the photo was taken) in her uniform. The interest at her work stems from the fact that Amanda is now employed by Dartmouth Medical School of Psychiatry and is also an associate faculty member in the Department of Clinical Psychology at Anitioch University New England where she works with pregnant women.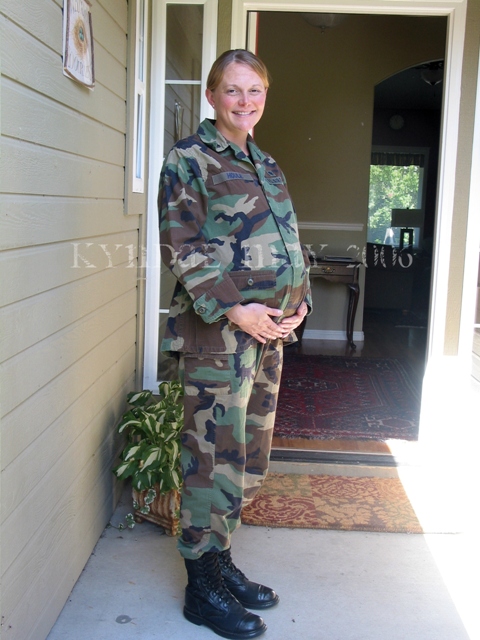 But the reason I wanted to share this is because Amanda Houle is also a DONA trained doula. "The combination of my training as a doula and in psychology allows me to do family therapy 'in utero' – it's an exciting blend." Read more about Amanda's public service project – a mental health program for expectant mothers at Cheshire Medical Center/Dartmouth-Hitchcock Keene.
So, to all the mothers, sisters, daughters, and doulas (both those serving in our military and those doulas who attend our military)…Thank You.