I started the "Who BEcomes A Doula?" Series because I wanted know more about what compels a woman (or a man) to become a birth doula? Are we all just "birth junkies"? (I deeply dislike that term).
I wanted to know:
~Who is drawn to this work and what kind of work (or life) did they have before they became a birth doula?
~What makes them continue?
~Is there something about our personalities that leads us to find a way to connect with, care for and support women at that uniquely vulnerable and joyous time of birth?
~Does it matter what part of the country, or the world we live in or is it in our human DNA to do this work regardless of country and culture?
~And for fun, some questions and photos that give us a glimpse into the moments and meanings in their lives.
For this project, I have chosen to interview doulas all over the world.
Some are new to this work. Some are seasoned and 'reasoned' – my way of saying they have found what it takes to make this work sustainable – both professionally and personally.
All of them inspire me in my own "heart's work", like….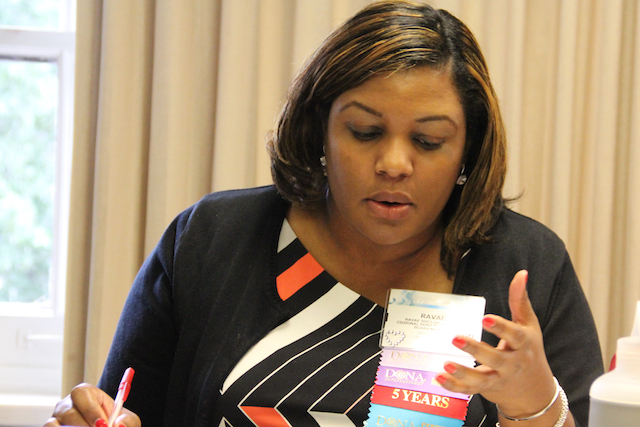 Ravae Sinclair, JD, CLC, CD(DONA)
I met Ravae this past September at my first DONA International Board of Directors meeting in Kansas City at the Lamaze/DONA Confluence. While we are two of the newest board members, she had already attended her first board meeting as DONA's Multicultural Director. After a day in meetings with Ravae, I was struck, first and foremost by her comfort and confidence. I say them together like that because that is how it felt to me…like they (comfort and confidence) were a pair – like salt and pepper, sun and moon. Yep. It felt like that. Ravae Sinclair wears comfort and confidence like a perfectly paired necklace and earrings. And if you ask her…she'll gladly share them with you.
You are a lawyer. How did you know you wanted to become an attorney?
It sounds cliché, but I have always known that I want to be an attorney. I argued many points as a child, not only for myself, but also for others. My mother starting calling me "Attorney Sinclair" and I responded. After a while, it was common knowledge that I would likely become an attorney. I guess the image stuck. I dabbled in other things before law school: Office Manager for a U.S. Senator on Capitol Hill in Washington DC, administrator of a non-profit organization, a massage therapist and a birth doula. Law was always calling my name in the background. With the urging of my parents, I went on to law school to complete my goal.
But you practice as a doula…could you share what inspired that transition? My transition from working as a criminal defense attorney back to working as a birth doula was inspired by a growing discontentment within my Self. I spent 7 years in the local jails working closely with the most vulnerable adults in Milwaukee County. My clients were mentally ill, physically ill, traumatized, poor, and often hopeless as they faced criminal charges. I learned their lives and their stories and discovered a wealth of abuse by care providers and the local community. I worked in a system that continued to abuse my clients and, for the time that I served my clients, I tried to minimize further injury. It's a daunting task that wore out my soul. I reached back to birth work to reconnect with life and recall God's goodness in humans. In many ways, the births that I witness regenerate my belief in humanity and the power of love.
Are there any similarities between the professions? Yes, there is one basic common thread in criminal defense and birth doula work. In both scenarios, a client came to me facing a daunting milestone in their lives. They came to me because of my training and experience in a particular area- courtroom or labor & delivery unit of a hospital. I would meet with my client to educate them to make decisions for themselves. My responsibility is to hold their hand and help guide them to the other side of their trial or birth. After debriefing the experience to become acquainted with their new reality, I move on to support a new client. In a nutshell: All are unsure. All need support. I guide them through the event to ensure they are whole and intact human beings after going through the difficulty. Then, I move on.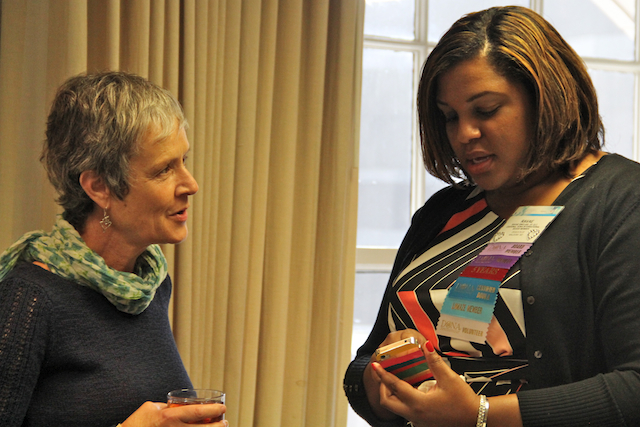 You are also DONA International's Multicultural Director. I often find myself reminding myself of Maya Angelou's quote: "When you know better, you do better." From your perspective as Multicultural Director, what do you want all doulas to know and do better? Fundamentally, all people want the same thing- to be loved and cared for. It doesn't matter the language barrier, the lifestyle choice or the particular ability. People know and feel your intention. If the intention of your heart is to be helpful and loving, you can make a difference in the birthing experience of all mommas and babies.
OK, now for some fun…
What is your favorite word? Provocative
What is your least favorite word? cancer
What sound or noise do you love? The ocean waves crashing on shore.
What sound or noise do you hate? People fighting and hurting each other
What movie could you watch again and again? The Color Purple
What book are you reading now? Act Like a Success, Think Like a Success by Steve Harvey
When driving in the car or riding in a plane what do you listen to? This American Life on NPR
The food you would eat several times a week if you could is… Swedish fish candy (not sure if it qualifies as "food")
Your favorite pair of shoes are… Austrailian winter boots by Emu
Favorite APP? Right now? What's App is my favorite app bc I can hear my best friend's voices or see their faces when they tell me the daily stories of their lives. It's precious to be able to stay connected in real time.
Your family would say about you…she's a hardworker and she loves us
When you are not a birth, where are we most likely to find you? At home sitting in the office or in front of the tv watching shows on my DVR
Why/How did you become a doula? I became a doula after working as a massage therapist and I was seeking a way to expand my prenatal massage practice. I had no idea how impactful attending births would be on my soul.
Why do you continue? I have come and gone from doula work over the years. Birth work requires a flexible lifestyle which I didn't always have the privilege to maintain. Now, I spend my life as doula because it's the right time for me to support women and their families in their desire to be loved and gently guided as they assume the responsibility for more lives on the earth. I have seen many human beings be mistreated and abused in their lives. My work as doula is undergirded by a necessity to help people get a loving start in life.
If you could say only one thing at a birth to the laboring woman, what would it be? Let go and let God
What is the most challenging thing about being a doula? Unpredictability of births (being constantly on call) and the stress of hoping two mommas don't go into labor at the same time
What is the most rewarding part of being a doula for you? Parents expressing how loved and supported they felt as they embarked on the unknown in labor and the birth of their child
Vulnerability is … the space where you can let love flood into your heart.
Sometimes the "story I make up in my mind is"… that I am wealthy and well loved by my partner.
Courage is… feeling fear, but going forward anyway.
How do you summon it? I pray
Authenticity is… being you consistently, no matter the place or people you entertain.
To recharge your BEing, you… hibernate (sleep, stay in the house, watch movies, lay in bed and talk with my girlfriends by telephone)
What question matters most to you? Are you living your life's purpose?
Your advice to new doulas – in HAIKU please:
Trust God Trust Yourself
Believe in the power of
… life. In that order.
(I'm sure that's not haiku, but that's what I felt)